Snapchat is getting rid of a feature Speed Filter that shows how fast a user is. Users can utilize the speed filter to record how fast they were driving at the time a video was captured. Several tragic crashes involving the speed filter occurred in the years after, leading to the gamification of driving by some young Snapchat users.
Snapchat, a popular social network among youthful smartphone users, has 500 million monthly active users and is rapidly expanding in many regions of the world. Snapchat which has expanded its features beyond disappearing messages said last month, that it had 280 million daily active users.
Snapchat's popularity stems in part from its "camera" function, which allows users to add augmented reality to their own material and interact with it, including buying.
Speed Filter Controversy
After using the Speed filter and smashing into another automobile at over 100mph, a teenager filed a lawsuit against Snap (Snapchat's parent company) in 2016. The sufferer was rendered crippled and required round-the-clock care.
Snapchat set the top speed at 35 mph in response to criticism and worries that the function enticed Snapchat users to drive excessively fast to show off.
Three males were driving at over 120mph in Wisconsin, USA while using Snapchat to video using a speed filter. When they lost control of the car and smashed into a tree, all three were dead. Despite the situation, Snapchat kept the filter active — with the caveat that users should not use it while driving.

Read Also: Clubhouse Private Messaging Function Leaked | TechPatro
In 2016, Snapchat included a "don't Snap and drive" warning to the bottom-right corner of the screen in the form of small, translucent writing. Snap had made a number of improvements over the years purportedly aimed at discouraging speeding while using the filter, but it had resisted completely removing it.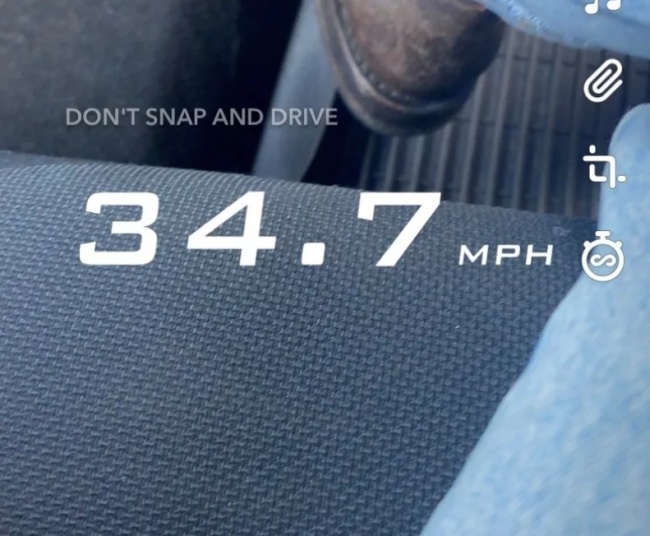 That was roughly a year before the fatal crash recounted above, and a few months before another, similar occurrence in which five Floridians were killed, including two youngsters aged nine and ten.
Snap was forced to alter the speed filter as a result of the reversal, preventing it from registering driving speeds. Snap has apparently determined that the Speed Filter isn't a good idea, and it's been removed from the app.
Snap's official statement that the feature is being deleted not because to safety concerns but because it is no longer popular is both depressingly predictable and insensible to the families who have lost loved ones as a result of using the Speed Filter.
Since Snapchat's heyday in the mid-2010s, it's come a long way. Whereas, now sits in the shadow of Instagram and TikTok. However, the corporation couldn't bring itself to kill this poor idea while it was still hot.